SUUNTO D4i WHITE W/O USB
The robust and lightweight Suunto D4i Novo for diving and everyday wear comes with a comfortable silicone strap. It includes four dive modes (air, nitrox, freedive and gauge) as well as timer and watches functions. Optional wireless tank pressure reading and graphical dive logs offer a friendly user experience.
Features :
Full continuous decompression algorithm Suunto RGBM
Four modes: air, nitrox, free and off
Innovative apnea timer, and a timer in air/nitrox modes
Updateable firmware
Optional wireless air integration current cylinder pressure, remaining air time
Built-in dive planner
Detailed graphical logs and dive data on your PC/Mac using Suunto DM5 software
THE GREAT ALL-ROUNDER
The redesigned Suunto D4i comes in a range of fresh colors and with an all-new soft, comfortable silicone strap for that perfect fit. Lightweight and packed with handy features like freedive mode and optional wireless air integration, it's got everything you need – wherever your diving may take you.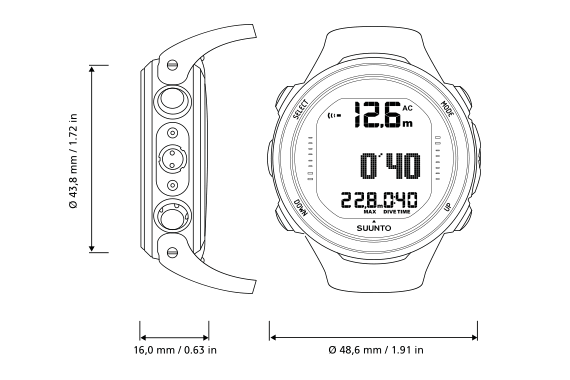 Full continuous decompression algorithm - Suunto RGBM
Four modes: air, nitrox, free and off
Innovative apnea timer, and a timer in air/nitrox modes
Updateable firmware
Optional wireless air integration – current cylinder pressure, remaining air time
Built-in dive planner
Detailed graphical logs and dive data on your PC/Mac using Suunto DM5 software
0 reviews for SUUNTO D4i W/O USB